#TheGoldStandard, a historic show for AAPI artists
Drue Kataoka, artist and curator of #TheGoldStandard, considers and celebrates AAPI artists on the blockchain.
Earlier this year, the SuperRare team invited me to curate an art show celebrating AAPI (Asian American Pacific Islander Heritage) month.  It would be a historic show, the first ever exhibition dedicated to showcasing the work of Asian American artists on a major NFT platform.  I chose the name #TheGoldStandard as a reference to Asian skin, art history, heritage but also to excellence, and of course–to the roots of cryptocurrencies (and crypto art) as the 'new gold.'  My goal: to spotlight the vast yet somehow invisible contributions of Asian American artists in the digital art world.  
We can find the roots of this invisibility in the severe under-representation of Asian Americans within the overall cultural landscape of America.  The numbers are staggering.   A recent survey of a diversely sampled group in the U.S. found that 42% of those asked were unable to name a single prominent living Asian-American.  Top responses included a dead person and a foreigner.  The bamboo ceiling is real.  Take a look at Forbes' list of the top 100 highest paid people in entertainment.  There is only one actor with AAPI heritage, "The Rock" (whose mother is Samoan and whose father is Black Nova Scotian).  Zero Asian American women.  No East Asian American men.   
In the "analog" institutional art world, the representation of Asian Americans has been historically abysmal.  It is plainly obvious that we are under-represented by simply glancing at the name plates at the major museums.  My informal review of the 5,194 American artists in the MoMa collection uncovered the level of Asian American artists to be at around 1%, which is 7x lower than our share of the US population.  Remarkably, for all the recent abundance of diversity research, no academic paper has made an effort to quantify our representation in major US museums.  It is an issue that I have recently raised with leading academic voices for art representation and diversity. 
But it is not just the museums.  In the top 100 auction results for the most recent year I could find (2019), there are zero Asian American artists. So I cannot help but agree with the Founding Co-director of the Asian American Art Initiative at the Cantor Arts Center at Stanford University, Aleesa Pitchamarn Alexander, who writes "Asian American art has been undervalued in almost every major arena of the art world."  A verifiable injustice.
Moving forward from the legacy, analog art world to tech art.  Asian American artists have been the backbone of digital creativity for decades: from pushing visual technology to its limits in Hollywood special effects, to building virtual worlds for top gaming experiences, to advancing the frontier of technology art.  Asian Americans have played a critical role in turning the best-known digital franchises into household names—yet, again, while toiling in the shadows.  Now, as crypto art and NFTs liberate artists, armies of incredible talent are claiming their sovereign artistic identities along with their Asian heritage.
So that's why I was so excited when SuperRare reached out to me about doing this show.  Yet, I faced a challenge: how to live up to such a show's potential.  I quickly gave up on the idea for comprehensiveness—given the diversity and volume of voices, it would be futile!  Instead, I put together a curation that is idiosyncratic, unabashedly personal, and hopefully—thought-provoking and stimulating for the viewer.  
#TheGoldStandard collection features nine artworks from prominent Asian-American artists, ranging from rising stars in the NFT space to scientists and researchers who are pushing the frontier of what is technically possible in crypto to veterans of some of the world's leading special effects houses in the entertainment industry, to art entrepreneurs in Silicon Valley.  All works are on exhibit and available for purchase during the month of May on SuperRare exclusively.
Ani Liu is an internationally exhibiting research-based artist working at the intersection of art & science.  Her work has been exhibited at the Venice Biennale (Architecture Biennale 2021), the Boston Museum of Fine Arts, the MIT Museum, and MIT Media Lab.  I selected her artwork Shapes and Ladders: Battles of Bias & Bureaucracy, a video game that shows how systemic racism and sexism are embedded in insidious ways in the workplace. Set in the metaphor of a career ladder, players attempt to navigate through an office building rife with challenges.

Shapes and Ladders: Battles of Bias & Bureaucracy by Ani Liu
Formally an illustrator, Billy Dinh has an eye for capturing the world in a dynamic way. He documents moments of everyday life and finds the beauty in the usual in his photos, which he presents as almost stills from something out of a movie or a dream. Billy's work has been exhibited in both the USA and Europe.  I selected his photograph Undecided, which captures a young man as he weaves through the sea of people to make his way on to a train.
Curry Sicong Tian is a multidisciplinary filmmaker who has held various roles including director, concept/digital artist, 3d mographer, fashion photographer, and creative director at studios internationally.  She is aiming to bridge the gap between eastern and western culture, video art and film and has worked with clients like Mercedes Benz, Apple BEATS, Canon and Coachella.  I selected her artwork Illuminate the Void which Curry describes as a profound reverie, "lodged in nebulae."
Michael Yamashita has shot for the National Geographic for 40 years, combining his dual passions of travel and photography. An Asian Studies major at Wesleyan University and fluent in Japanese, Yamashita has followed his roots to become a Far East expert. In addition to his work throughout Asia, which has included intensive concentrations in China, Japan, Korea and India, his assignments have taken him to six continents.  I selected his photograph Healing Waters of Takaragawa.  Takaragawa onsen has an ancient history, dating back to prehistoric times, and through the years the curative effects of the waters from its thermal hot springs have drawn visitors who come to bathe in the open-air rotenburo throughout the year. In the fall they are surrounded by the rich golds and reds of autumn foliage, reflected in the healing waters. 
Reuben Wu is a multi-disciplinary artist working in photography, motion and music.  Reuben's work is in the permanent collection of the Guggenheim, The Met, RawDAO and FlamingoDAO, and his clients include Apple, Audi, VW and Samsung. He is also a Phase One Global Ambassador and a photographer for National Geographic Magazine.  The notion of journey and discovery is central to Wu's art, bound with his love for new technology and the opportunities it brings to modern storytelling.  I selected his artwork, Somewhere, Something Incredible Is Waiting To Be Known (LN2938) from the Lux Noctis series, an ongoing project depicting landscapes unbound by time and space, influenced by ideas of planetary exploration, chiaroscuro painting, and science fiction.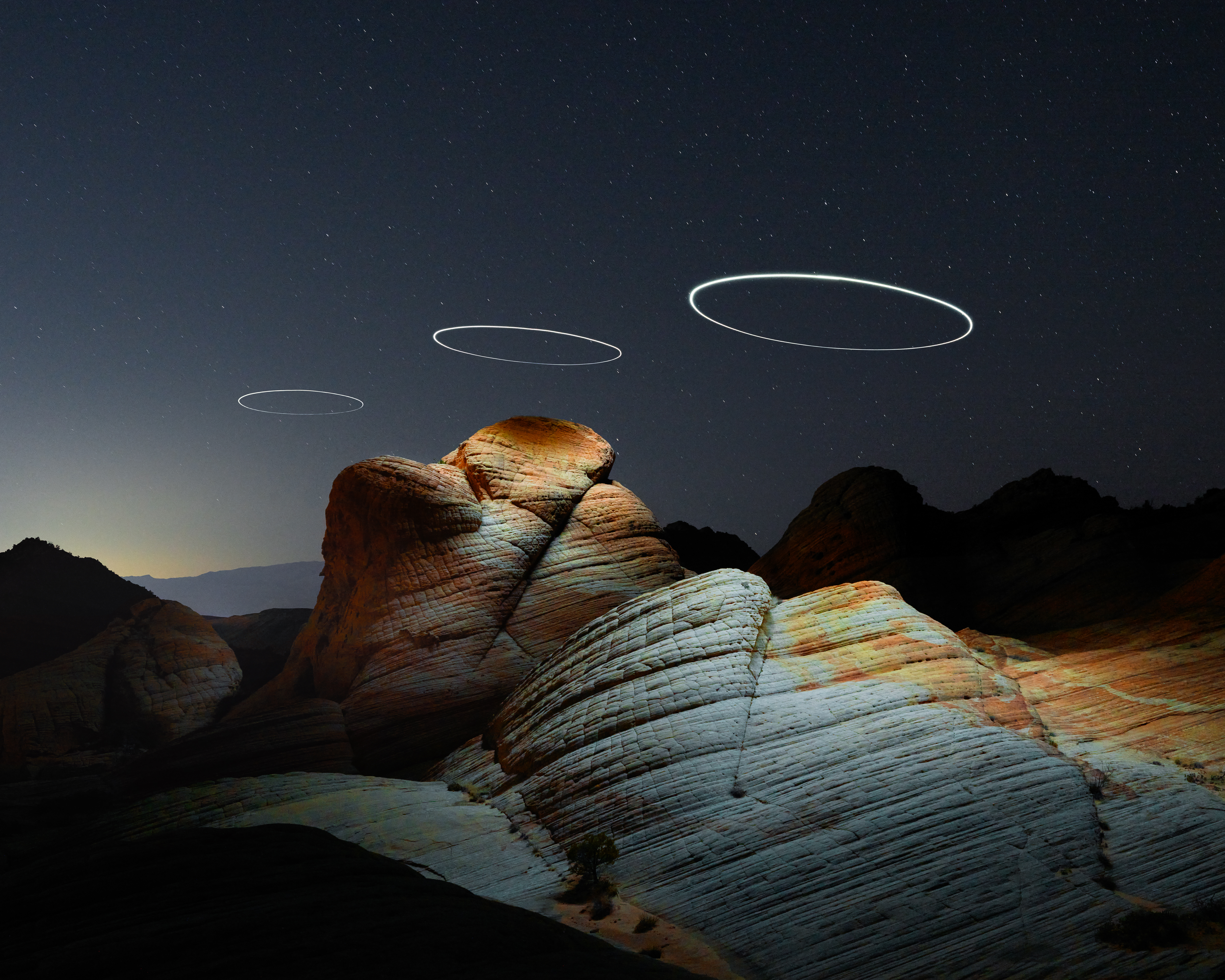 Somewhere, Something Incredible Is Waiting To Be Known (LN2938) by Reuben Wu
Te Hu is an award-winning CG artist, a veteran of Industrial Light & Magic and Electronic Arts and currently at Pixar. He was honored with the ADC 100th Gold award and the only Gold award of the Japan illustration Contest 2022.  He has created art for acclaimed video games like Dead Space 3 and Battlefield, and the Oscar-winning CARNE y ARENA and award winning Vadar Immortal Series.  I selected his artwork raijin_and_fujin.  This painting was inspired by the ancient Japanese gods of thunder and wind, using programmed procedural techniques to simulate the clouds and to mimic a traditional gold etching technique. 
Weidi Zhang is a new media artist and researcher. Her media art research and practices investigate A Speculative Assemblage at the intersection of immersive media design, experimental data visualization, and interactive AI art. Currently, she is a Ph.D. candidate in the Media Arts and Technology Program and a graduate researcher in Experimental Visualization Lab at UC Santa Barbara.  I selected her artwork, Astro::CityJungle07, part of her Astro audiovisual series work that unfolds our earth through the lens of an intelligent being in outer space to raise the question 'why explore space'?  This work is created using an algorithmic approach combining data visualization of cityscape and machine learning generative visuals. 
Xin Liu is an artist and engineer.  She is the Arts Curator in the Space Exploration Initiative in MIT Media Lab, a member of the inaugural ONX studio program founded by New Museum and Onassis NY and Silver Arts Project in the World Trade Center. She is also an artist-in-residence in SETI Institute.  I selected her artwork, The Last Tooth. In 2019, she sent her tooth to outer space, carried by a crystalline robotic sculpture.   
Vitruvian Woman #TheGoldStandard
is a creation of Drue Kataoka Studios in collab with Concept Art House.  It reimagines Leonardo da Vinci's Vitruvian man as a woman in a sea of gold, under gold skies. I chose to partner with Concept Art House, a leading digital art studio with over 13 years of history in the gaming and digital entertainment arenas. A portion of the proceeds from the sales will benefit Asian Health Services.
Vitruvian Woman #TheGoldStandard by Drue Kataoka Studios x Concept House
Please check out all the artworks here.  Join the conversation and tweet about any piece that moves you with the hashtag #TheGoldStandard.  
The Ukrainian artist shares her experiences and talks about using her art to support her community.
Harmon Leon interviews the minds behind Olta and Transient Labs to discuss code, metadata, and the future of interactive NFTs.
The artist talks "a history of cryptoart," SuperRare collector badges, and how it feels to be part of a pivotal moment in art.